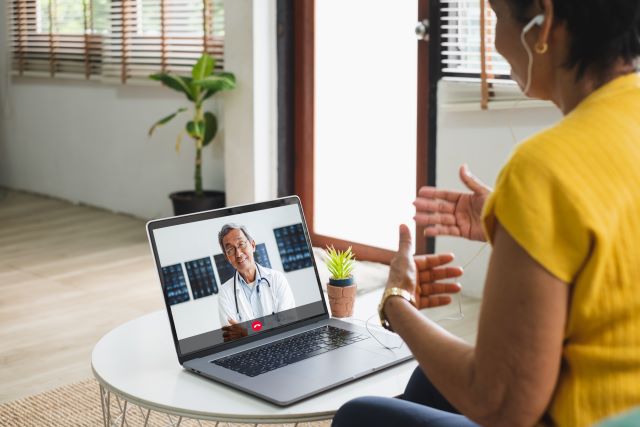 3 Strategies for Better Virtual Patient Engagement in 2021:
It's 2020, but we've seen too many hospital systems conducting patient engagement and outreach with 1999 strategies. Snail mail, phone calls and in-person visits used to be the only way to do things, but now they're the default. If this year has proven anything, it's that effective virtual patient engagement is no longer an option – it's a requirement for success.
Reaching out to patients and communicating without meeting them in person has become an art made possible by technology. If your health system is falling behind when it comes to "meeting" patients online, it may be time to put a technological overhaul on your list of New Year's Resolutions.
The shift to virtual patient engagement
In the world of traditional patient engagement, there are typically three ways of interacting with self-pay patients for eligibility screening. One, physically going to a hospital room and speaking with a patient. Two, directing non-admitted patients to the patient financial services office for screening. Or three, calling patients you can't meet in person and screening them over the phone.
For the past 15 or so years, this model has not changed. One or more of these strategies has been used to track down and screen self-pay patients. However, as a result of several factors, most notably the COVID-19 pandemic, direct patient contact has been extremely limited, reduced or eliminated entirely. Hospitals nationwide are restricting staff interactions with patients for their safety whether the patient has the coronavirus or not.
With this shift to virtual patient engagement, two out of the three traditional models are no longer available and the third model, the phone, has become less and less effective with the shift toward online tools brought about by younger generations. Today, most interaction with customer service is online through apps, web-enabled technologies and even text messages.
This shift was a long-time coming, but now that it's here patient financial service departments are facing new challenges. How do you best engage patients in a process that helps enroll them in eligibility solutions without requiring an in-person conversation?
1. Improve outreach through passive and active methods
The first thing you'll need for virtual patient engagement is some sort of software or set of tools to enable online interaction that your staff knows how to use. Once you have these tools, you must direct the audience to them to join
the conversation.
There are two methods of improving your outreach initiatives in the new year: active and passive.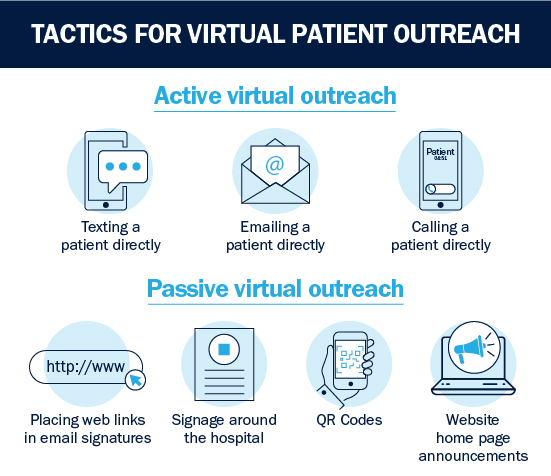 Active outreach involves directly emailing, texting or even calling self-pay patients and explaining how they can use your patient portal for eligibility screenings.
Passive outreach involves making use of the tools and communication methods you already have to let the patient know how they can engage. This can include placing signage around the hospital, using QR codes, putting a notification on your website or putting links on emails and correspondences you're already sending to a patient.
Both options level technology for outreach to initiate contact, and both have their pros and cons. Direct outreach is often best, but adding in passive outreach tactics can boost success rates by giving patients constant reminders that virtual contact is easier than ever.
2. Initiate engagement according to patient preferences
Once you've made the patient aware of your virtual contact solution and driven them to it, you must make them a part of conversation to complete the screening process, or engage them. Depending on the way they found your portal, you may want to try different methods to encourage engagement.
With passive outreach, a patient may have seen a sign or clicked a link in a generic email and ended up in your patient engagement software. They may not assume you already have information like their income, household makeup and demographics and they may not want to give this information away without establishing a strong link to the health system or speaking to someone first. In this case, you may want to offer a system where people can input their information anonymously to see if they qualify for financial assistance, then provide their identities after receiving confirmation.
Identifying your target audience for virtual patient engagement and understanding their needs can help develop solutions for every kind of self-pay patient. Some people may prefer to input their information anonymously, some may be more comfortable giving out information up front. Giving options for engagement based on outreach methods can improve success rates for patient contact in the coming year.
3. Invest in technology for improved information exchange
If you've already invested in tools for improving virtual patient engagement, you may have some sort of portal or all-in-one software that can facilitate the exchange of information. At the highest level, a financial counselor needs three things to complete a financial aid enrollment:
Information: The patient must provide personal information which the counselor can understand and validate after an initial screening.
Documentation: The patient often must provide documentation to validate information. Not in every case, but in many.
Signatures: The patient must give an official sign off on provided information and key components of the enrollment process.
There may be increased in-person patient interaction as we move into 2021, but this idea of leveraging technology for success will only continue to drive value, efficiency and patient satisfaction within your process.
Looking to invest in your patient satisfaction in the New Year? Bluemark specializes in software solutions that enhance virtual engagement for faster financial enrollment. Schedule a free, no-commitment demo today.