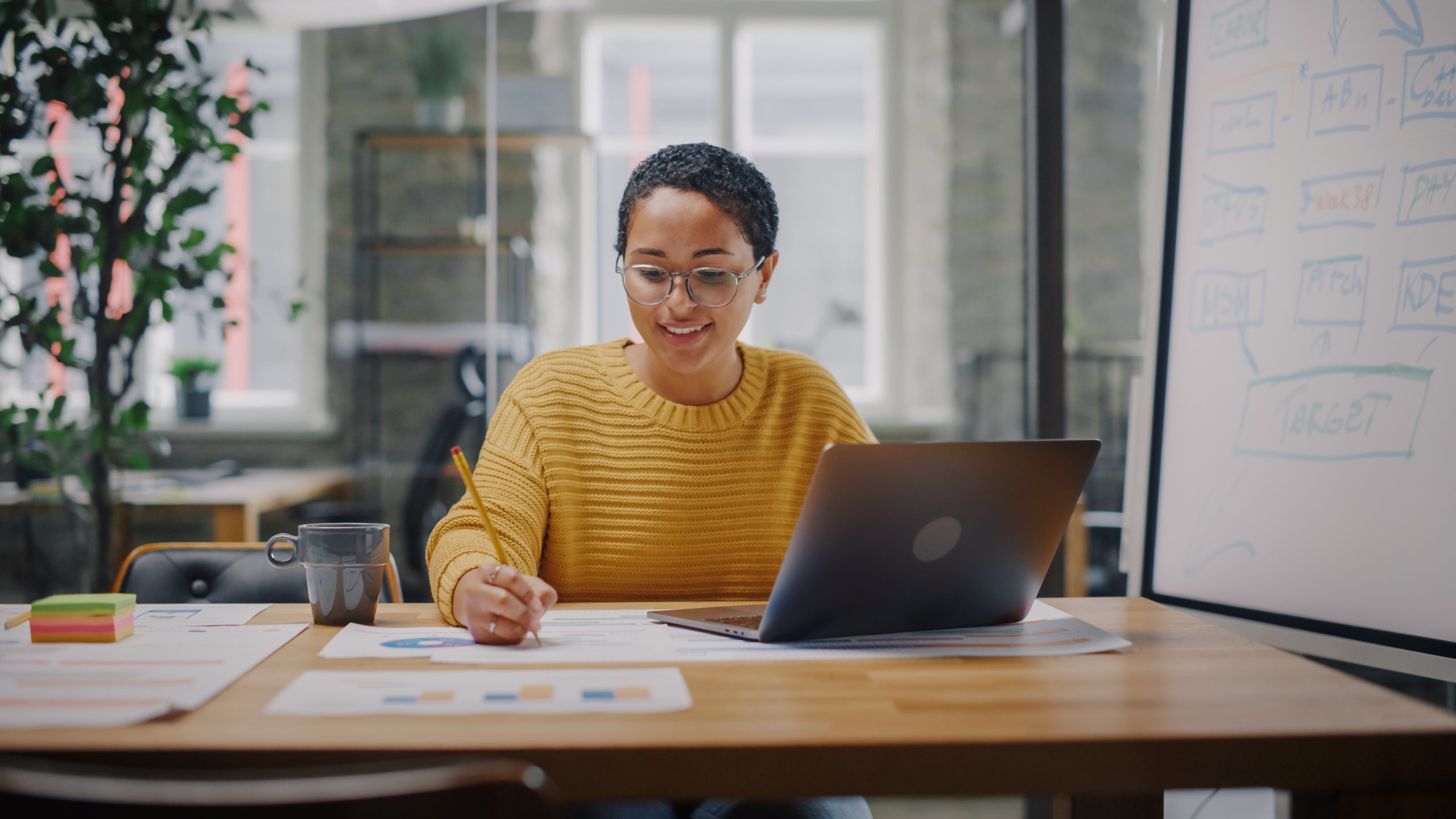 When industry professionals consider and define self-pay management today, their view is often narrow, focused almost solely on screening and enrollment. For many organizations, self-pay management starts and ends there.
But it's time to throw out the old self-pay playbook. There are new tools readily available, and the way we manage these patients has evolved and expanded on such a level that ignoring these advances is detrimental to healthcare revenue integrity.
This new framework, affectionately dubbed "Full Cycle Self-Pay Management," is essential to optimizing your revenue cycle. Taking a holistic approach to your revenue cycle that elevates self-pay management rather than diminishing it has a much more dramatic impact than you may think.
The following article serves as your introduction to Full Cycle Self-Pay Management, breaking down the system and subsystems while examining the new, major components within. While this article is focused mainly on top-level components, the Bluemark team is launching a full white paper this July with a more in-depth explanation of each element with practical applications for this new framework. The full article will also explore specific actions you can take now to evolve your own self-pay patient management practices.
Users interested in receiving the full white paper on its release are invited to visit our Subscription Center to sign up for our email newsletter.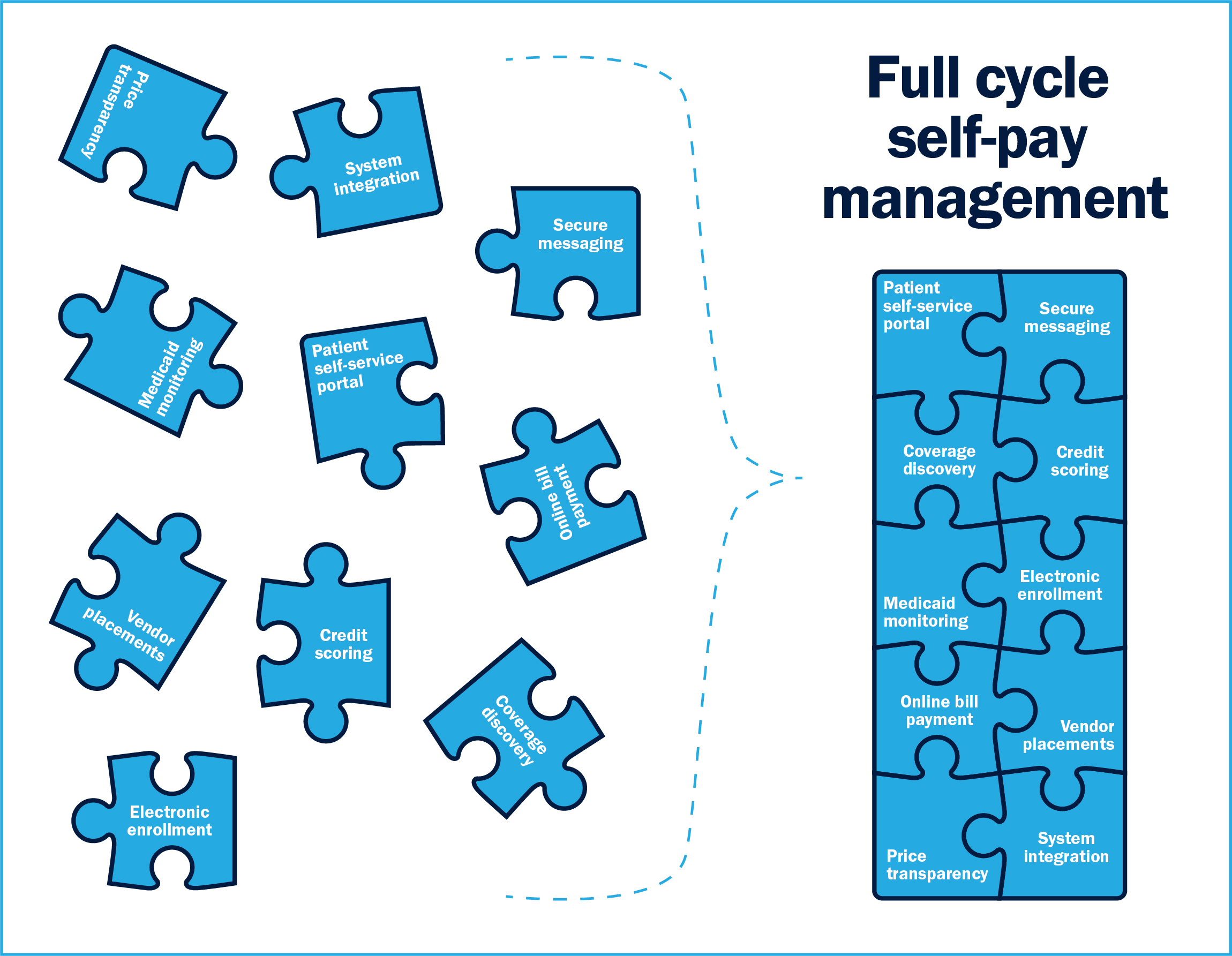 1. Patient self service portal
Patient portals have broad applications in our healthcare system today. Most organizations, especially large health systems, have one available for patients to use, but they have not been broadly applied to the financial counseling process.
The patient portal offers the following applications, all of which have their place in Full Cycle Self-Pay Management.
Patient Outreach
The portal can serve as an outreach tool to draw patients into the financial counseling process. Patients can choose to use the patient portal via direction from the hospital's website, QR codes and signage at the hospital or email and text reminders. Making it easy for patients to access the portal increases the likelihood of them initiating the financial counseling process on their own.
Patient Engagement
Portals can also serve as the communications tool that increases communication with the patient through the enrollment process to ensure a final resolution. It has the power to take the place of 1:1 communication that takes place through phone calls, letters and most emails.
Through a portal, financial counselors can request and collect specific information and electronic signatures required as the account moves through the enrollment process. They can clearly communicate each step of the process and the end results to the patient through secure messaging options as well.
Workflow Automation
With automation, financial counselors are no longer required to spend time on manual tasks, but can instead automate pieces that follow defined workflows and rules. Strategic automation can trigger predefined communications with a patient confirming the submission of an application or document upload.
2. Verified data and scoring
There are a wide variety of trusted data sources that can be used to assist financial counselors in assessing self-pay patients' financial situation. A best practice is to use multiple tools and deploy them in a manner that is consistent with your policies. Broadly speaking we have found scoring around the patients payment history and employment verification transactions to be the most effective tools in this space.
Credit scoring involves performing a soft inquiry on a self-pay patient's credit. The score is based on where the patient lives, not necessarily their income, but the information is valuable to the financial assistance process all the same.
This process allows financial counselors to prioritize accounts by identifying those most likely to qualify for a reimbursement program. Counselors can then define their outreach and engagement flow based on these scores, integrating high touch procedures for valuable accounts and more automated, email-based procedures for low value accounts.
Credit scoring also assists with presumptive financial assistance required to maintain a community benefit and tax exempt status. Patient credit score is a simple rule that can be applied broadly and consistently to all accounts to automatically determine who qualifies for the hospital's financial assistance program.
Employment verification data is another powerful tool that can access payroll databases and provide current employment verification, payment information and pay stub documentation. This data is very valuable and also can serve to properly document the patient's employment for an assistance program application. One potential downside to this type of data source is that it comes at a higher transaction cost and coverage hits can vary geographically and by employer type.
3. Insurance Discovery
More than 90% of Americans have health insurance coverage, meaning it's not out of the question that a self-pay patient would have insurance and not realize it. There are three main instances in which self-pay patients are mislabeled:

A mistake or human error. The patient has insurance but for some reason it wasn't captured at registration.
The patient has a high deductible plan and purposefully does not disclose insurance status.
The patient does not know they have coverage. More than 60% of Americans are confused about health insurance, so it's fairly common to not realize your employer provides coverage. The patient may also have been in the hospital a few weeks prior and not realize they still have financial assistance coverage via Medicaid qualification.
Insurance discovery at its core involves constantly checking and utilizing algorithms to determine whether or not a self-pay patient actually has insurance coverage. Many healthcare finance professionals balk at the time and effort that can go into insurance discovery, but the benefits far outweigh the costs. Not only is the hospital bill covered, any accounts found to have insurance are removed from the active workflow, saving time for employees with roles further downstream in the financial counseling process.
There are two common use cases for insurance discovery: Medicaid Monitoring and Coverage Discovery. Medicaid monitoring is a front end process that pre-checks the appropriate state database to determine if the patient qualifies for Medicaid. If they do not qualify for Medicaid, they move down the financial counseling process. If they do, they are removed from the workflow.
Coverage Discovery, in contrast, takes place at the end of the process before an account gets closed out. It's a more exhaustive check, running the account through Medicare, the top insurance carriers in the area and potentially Medicaid again.
4. Electronic Enrollment
The electronic submission of Medicaid applications has become increasingly common, to the point where hospitals still working with traditional paper and ink methods are falling behind in their revenue integrity. While there is no way to send data directly to the state's Medicaid enrollment system and/or exchange, there are ways to create front door interfaces allowing you to share data between two different applications.
Data mapping is a simple workaround that automatically copies and pastes data from one application to another without sharing raw data elements. Data mapping also works in reverse, allowing you to track the application's journey from submission to approval.
Leveraging existing data allows for a streamlined application submission process, increasing employee efficiency and saving hours of time no longer required for manual data input.
5. Online bill payment
Sometimes, despite a financial counselor's best efforts, a patient does not qualify for assistance programs. Oftentimes, these patients want to pay their balance and maintain compliance, but the financial counselor needs to make it easy. Simplicity is key, and can be the difference between getting a balance paid and writing off an account.
Patient portals and electronic engagement tools should allow for payment arrangement plan approval and traditional online bill payment. Patients should be able to openly discuss statements and payment plans with secure messaging options. This is a subtle but important use case for expanding self-pay management as it deals with collecting real dollars.
6. Price Transparency & Good Faith Estimates
Knowing what they will owe in advance makes it easier for patients to manage their finances and prepare to pay their bill. There are specific new regulations around good faith estimates (GFE). The No Surprise Billing Act maintains that providers are responsible in certain conditions to supply a good faith estimate to the patient. Providers often struggle with the best way to go about complying with this legislation.
As part of Full Cycle Self-Pay Management, hospitals should be able to provide accurate estimates and track these accounts with better visibility, always aware of what's happening with individual accounts. With proper software, GFEs should be simplified, allowing the same transparency as other accounts within the financial counseling process.
Other Advanced Self-pay Management Components
For years, Bluemark has touted the importance of self-pay management concepts like smart notes and indicators, workflow and status automation, system integration, secure messaging and self screening. However, use of these tools is still not widely adopted.
It's easy to feel overwhelmed by the sheer number of electronic tools available for the modern hospital. In fact, fatigue and overwhelm at the mere idea of adopting a new technology organization-wide is one of the biggest barriers to evolving the self-pay management process. But the good news is that the best software platforms offer the majority, if not all, of these tools in one package.
Self-pay management has evolved to the point where elements like the patient portal, data mapping, system integration, secure messaging and document upload and workflow automation are necessities rather than luxuries. The good news is software with these tools already exists and is available for you to start using today.
In the full white paper, which will expand on this article, we'll review practical applications for the Full Cycle Self-Pay Management model while offering concrete actions healthcare organizations of any size can take to streamline their process and increase efficiency.
Click here to visit our Subscription Center and add your name to the list of professionals who will be the first to receive the Full Cycle Self-Pay Management white paper right as it's released this July.