EASy for Long Term Care
EASy simplifies the Medicaid enrollment process for Nursing Homes and Long-Term Care Facilities.
Reduce Enrollment Cycle Time
A simplified workflow and electronic application submission lessens application and enrollment time, resulting in accelerated reimbursement.
Increase Productivity
Automation, document control and accountability make it easy to get more done in less time.
Enhance Reporting Efforts
Get instant hard data on successes and quickly identify areas for future improvement.
How Does EASy Help with Long-Term Care?
Simplifying Medicaid Coverage
Long-Term Care Facilities play a vital role in today's health care ecosystem. It is estimated that more than 10,000 baby boomers turn 65 every day. In New York State, there are over 2.6 million citizens over the age of 65. As our population ages, the need for the vital healthcare that nursing homes provide increases. 
Many think their healthcare expense needs later in life will be met by existing health insurance or Social Security. The reality is that Medicaid will most likely become the primary source of funding for many of these individuals. 
To meet these challenges, Bluemark has developed a dynamic, sophisticated and robust software package called EASy, which provides an end to end solution for the creation, submission and tracking of long-term care Medicaid applications. EASy has been designed to link New York City long-term care facilities with the City of New York Eligibility Data and Image Transfer System (EDITS).
Comprehensive & Cost-effective
Several key features make the EASy platform the best choice in today's market. EASy offers simplified electronic creation and submission of Medicaid applications and documentation and Critical Data Sharing with participating Nursing Homes using our Cross Provider Inquiry.
EASy also offers real-time access to case disposition and faster access to eligibility information. All client data is stored at a SOC 3 secure facility with full offsite backups. EASy users also enjoy advocacy support with New York City Medicaid regarding the resolution of case issues.
High-Tech Document Submission
EASy automates the entire application process for your facility with an auto-generated document checklist and electronic application submission. The platform allows for document control, accountability and data security while offering status tracking and accountability from start to finish. Organized data entry and imaging of appropriate documents mean all activities can take place in one, cloud-based platform accessible by your entire team.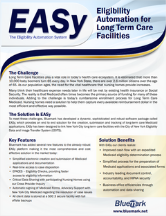 EASy Brochure
Eligibility Automation for Long-Term Care Facilities