MAPS for Hospitals
MAPS helps hospitals convert their self-pay patient population into revenue generating assistance programs.
Maximize Revenue
Quickly and accurately identify appropriate program coverage for patient accounts and achieve maximum reimbursement.
Increase Productivity
Use automation, electronic application submission, document control and accountability to track outcomes and reduce cycle-time.
Ensure Compliance
Provide a clear audit trail to ensure all legislative and governmental mandates are met.
How Does MAPS Help Hospitals?
Optimize The Enrollment Process
MAPS enhances providers' existing self-pay management processes—whether outsourced or in-sourced—to efficiently screen and enroll patients for all types of benefit programs, including Medicaid, Financial Assistance, health insurance exchanges and more. MAPS also assists in quick screening to identify the appropriate program in two to three minutes with just a few simple questions.
Fully outsourced operational models cost hospitals millions. Hospitals that chose to operate internally also lose valuable time and effort coordinating spreadsheets and managing self-pay patients offline. The MAPS platform facilitates a "hybrid" model for healthcare system operations where internal staff are equipped with software as an enablement tool, saving both time and money while keeping operations in-sourced. Intuitive technology and a modular architecture mean all provider rules, workflows, document management and reports reside in a single platform.

QuickSheet, our proprietary web browser capability, is designed to facilitate the submission of MAGI-based Medicaid applications through state based online portals or exchanges. QuickSheet allows for easy and secure sharing of patient account data between the MAPS solution and the state-based portal.
Serve Shifting Patient Demographics
The optional MAPS-clear Patient Portal allows for both patient outreach and engagement. It facilitates first contact with patients, allowing them to set communication expectations. This self-service portal caters to patients who are preferential to low-contact communication and allows financial counselors to meet the needs of changing patient demographics. MAPS-clear also allows for increased engagement as patients communicate directly with financial counseling staff for assistance program eligibility and enrollment.
Analyze Report Data For Future Improvement
In today's healthcare landscape, performance data is the most valuable tool an organization has at its fingertips. MAPS allows you to track performance over time and generate regular, customizable reports showing both successes and areas for improvement. Knowing the hard data ensures optimal performance and program compliance while allowing for quick process adjustments to meet the needs of an ever-changing industry. MAPS also includes the Bluescore feature, which provides algorithm-based benchmark data and reports designed to objectively quantify staff productivity and efficiency.
Your One-Stop-Shop for Self-Pay Management
MAPS brings together all of the functionality needed to convert the self-pay patient population into either reimbursement generating programs or financial assistance in the most effective and efficient manner possible. The suite of functionality includes tools for patient outreach and engagement, core assistance program eligibility and enrollment processing, and patient financial services management tools and reporting.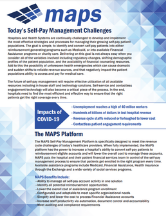 MAPS Brochure
MAPS Self-Pay Management Platform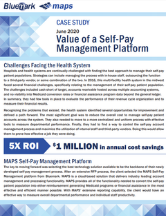 MAPS Case Study
Value of a Self-Pay Management Platform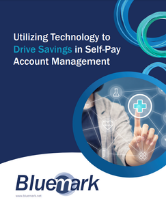 White Paper
Utilizing Technology to Drive Savings in Self-Pay Account Management