Blueway Portal
Blueway Portal enhances any audit response process with electronic document transmissions.
Faster Turnaround Time
Receiving Document Requests, submitting documentation and receiving a response electronically significantly lowers audit response cycle-time.
Reduced Labor and Cost
Less time preparing and checking over physical documentation means less labor and overhead cost.
Airtight Platform Security
Get peace of mind submitting documentation over a secure platform via a CMS certified Health Information Handler.
How Does Blueway Portal Help Providers?
Electronic Document Transmissions with Full Cycle esMD
Tracking medical record requests and keeping up with all of the required documentation and processes in today's audit arena is extremely cumbersome. Whether you are outsourcing the process to an ROI vendor or handling the process in-house, the cost can be high from both an administrative and financial perspective.
Blueway Portal is a secure, web-based tool that allows providers to immediately begin taking advantage of electronic document transmissions through the esMD program for all types of record requests and for all types of contractors. Blueway Portal is one of the only standalone transmission tools available today.
Strengthens Key Audit Response Elements
Blueway Portal provides automated tracking and management tools that strengthen five key areas of the audit response process, including:
Basic Audit Inventory Tracking

Electronic Receipt of the Medical Documentation Request

Electronic Document Submission for Initial Response

Electronic Appeals Submissions

Document Management and Storage
Cutting Edge Management Tools
Aside from Full Cycle esMD with electronic document requests and submissions, Blueway Portal offers several practical, user friendly tools that enhance audit response management. The activity dashboard provides a summary of all account activity, including new document requests, inventory status and data trends by both document and contractor types, as well as a complete list of activities due within the week.
Automatic notifications and reminders ensure deadlines remain top of mind. Administrators also have access to a number of tools that provide user logs and records of user activity. Blueway Portal's user tracking seamlessly builds into the system an audit trail for your records.
Full inventory reporting via Pathway Reports adds a new layer of reporting functionality, granting providers access to an analytics-based toolset with the power to report on almost any datapoint within the system. Pathway gives the users the power to generate eye-catching, presentation-ready analysis to bolster any reporting inquiry on provider performance or audit impact.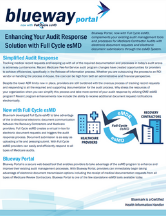 Blueway Portal Brochure
Enhancing Your Audit Response Solution with Full Cycle esMD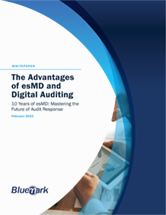 White Paper
The Advantages of esMD and Digital Auditing
Benefits of Electronic Medical Document Requests