Blueway Tracker
Blueway Tracker provides a comprehensive audit management and response platform for hospitals and health systems.
Protect Reimbursement Dollars
Safeguard Medicare, Medicaid and Commercial Insurance reimbursement.
Ensure Compliance
Automated processes and quality control ensure compliance and free staff to focus on more value added tasks while staying on top of time-sensitive deadlines.
Measure Financial Impact
Extensive, real-time reporting capabilities make it easy to measure the true financial impact of payer audits.
How Does Blueway Tracker Help Hospitals?
Enhanced case management functionality
Effective audit response management is all about real-time account tracking, cross-department collaboration and timely notification. That's why Blueway Tracker helps drive collaboration to ensure all necessary departments have a seamless method of working together. Its industry leading toolset facilitates response management for all types of audits from Medicare, Medicaid and Commercial Payers. 
Sharing data across systems is an important part of the Blueway Tracker platform and can both automate and streamline the audit response management process. Powerful status models and integrated workflows support all types of audit scenarios and promote transparency, all in one user friendly, streamlined package.
Customized Automation
Commercial payers have unique audit rules based on individual provider contracts. Blueway Tracker provides tools to easily allow you to create customized workflows specific to your commercial payers. Once configured, these workflows are available in our platform and seamlessly leverage all of the case management and interface components of Blueway Tracker.
Dynamic worklists provide intuitive work queues that allow for audit tracking based on workflow status or user responsibility. Worklists are integrated with an automated notification system capable of alerting users via email and text notifications based on either assignment or key event change. 
Integrated Release of Information 
As one of only a few Certified Health Information Handlers (HIH) in the nation, Bluemark developed Full Cycle esMD. Full Cycle esMD takes advantage of the bi-directional electronic document communication between the Recovery Audit Contractors and Medicare providers through the esMD Gateway. Full Cycle esMD creates a virtual in-box for electronic document requests and triggers the audit response process. Document submission is as easy as uploading a file and pressing submit. With Full Cycle esMD providers can easily and efficiently respond to all types of Medicare audits.
Electronic document submission to commercial payers is also available within the Blueway Tracker platform.  
Comprehensive Reporting Suite
Our industry leading reporting tools give you real-time access to monitor and assess all aspects of your audit response performance. A wide variety of both ad-hoc and pre-built reports cover financial impacts, account status and aging and worker productivity.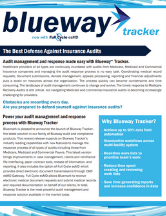 Blueway Tracker Brochure
The Best Defense Against Insurance Audits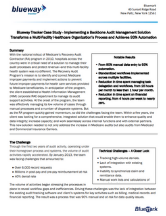 Blueway Tracker Case Study
Implementing a Backbone Audit Management Solution Transforms a Multi-Facility Healthcare Organization's Process and Achieves 93% Automation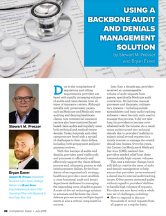 Compliance Today Article
Using a Backbone Audit and Denials Management Solution