MAPS for Tribal Health
MAPS IQ is specifically designed to meet the unique patient enrollment needs of Tribal Health Organizations.
Tribal Member Enrollment Tracking
Track all assistance program eligibility, enrollment and re-enrollment at the individual tribal member level.
Grant Reporting
Advanced reporting analytics make it easy to track and report on success in order to meet grant funding requirements.
Tribal Based Assistance Programs
Customized to include any assistance program unique to your tribal organization along with a wide variety of common programs like Medicare Savings and Veterans Programs.
How Does MAPS IQ Help Tribal Health Providers?
Fully Configurable To Meet Your Needs
MAPS IQ was specifically designed to meet the needs of the Native American healthcare provider market and delivers a single platform to efficiently screen and enroll uninsured tribal members for all types of available assistance programs. MAPS IQ is fully configurable to complement your existing uninsured patient management processes and help you achieve maximum results. It can also be utilized to support tribal outreach and enrollment efforts.
Designed Specifically For Use By Tribal Health Organizations
There are approximately 2 million American Indians and Alaska Natives who belong to over 500 federally recognized tribal organizations across the country, many of whom, unfortunately, lack proper health insurance coverage. The mission of the health systems that serve this population is to raise the physical, mental, social, and spiritual health of American Indians and Alaska Natives to the highest level. 
Bluemark has partnered with Native American healthcare organizations over the last decade to develop MAPS IQ as a leading solution in the tribal health space. MAPS IQ was created specifically to help Native American healthcare organizations navigate the growing complexity of assistance program eligibility and enrollment by providing tools, technology and support to strengthen the uninsured patient management processes.
Patient Communication Tools
The MAPS-clear Patient Portal complements the MAPS IQ platform by providing an online consumer facing portal to facilitate the program enrollment process and enhance overall patient communication. This assists in connecting with hard-to-reach tribal members.
Advanced Reporting Analytics
Many of our MAPS IQ clients receive grant funding which is then used to assist in managing uninsured patients. Grants often require extensive reporting on use, and collecting this information can be tedious and time-consuming for busy organizations. MAPS IQ collects performance data and automatically generates customizable reports to make grant reporting a breeze.
MAPS IQ Brochure
Uninsured Patient Management Technology for Native American Healthcare Systems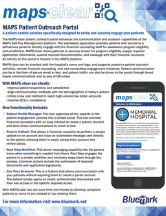 MAPS-clear Patient Portal
MAPS Patient Outreach Portal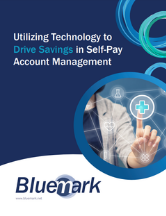 White Paper
Utilizing Technology to Drive Savings in Self-Pay Account Management