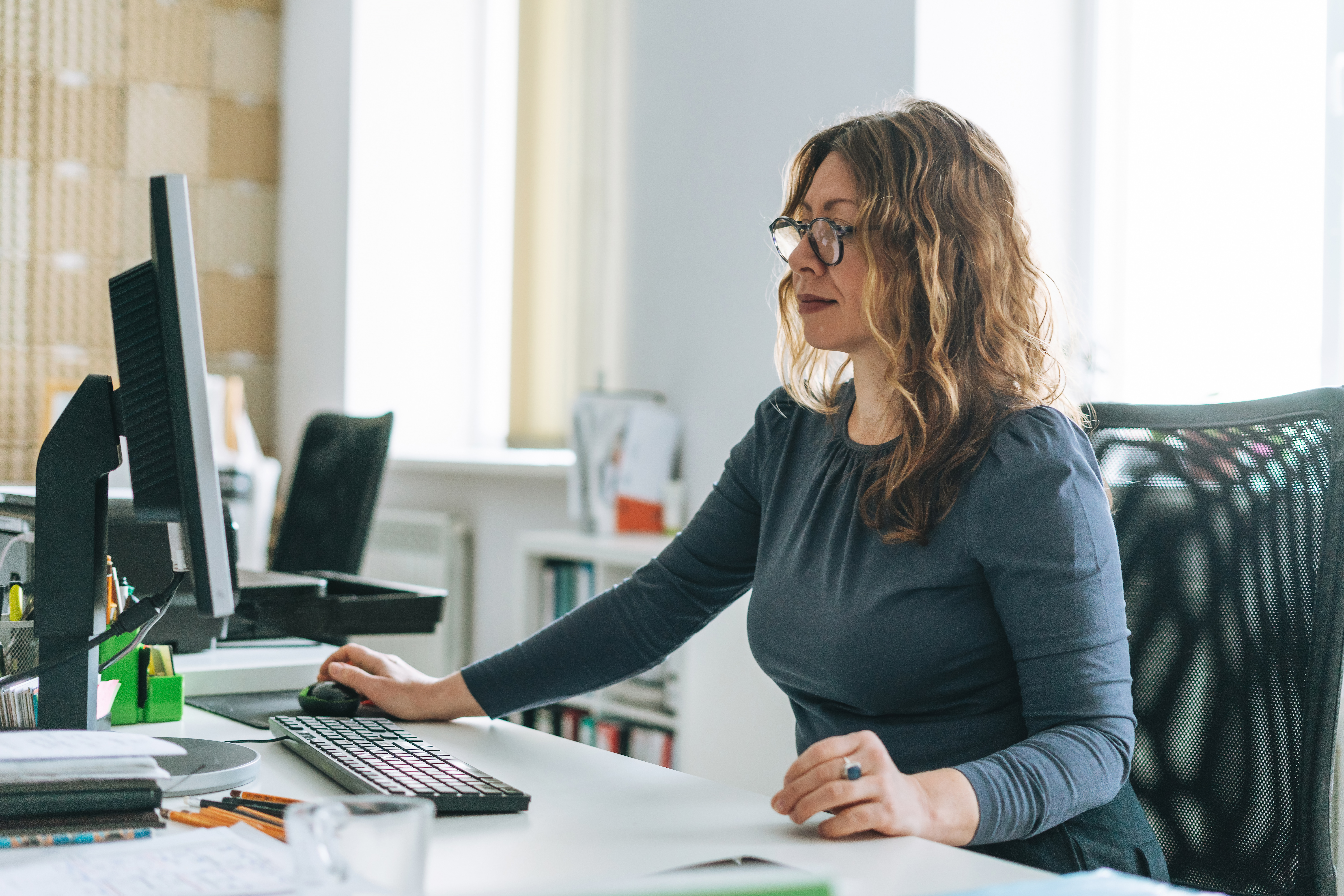 Happy birthday to the Centers for Medicare and Medicaid Services' (CMS) Electronic Submission of Medical Documentation (esMD) Program! At ten years old, we can say without a doubt it's only getting better with age.
It's been ten years since CMS gave healthcare providers the option to submit documentation for Medicare audits using the internet rather than mailing in paper documents by hand. Since then, thousands of providers have taken advantage of the program, working with certified health information handlers (HIHs) to upload and submit their documentation.
Bluemark has been a HIH for 8 years and has been involved in esMD since 2014, two years after its initial launch. To mark the program's tenth anniversary, we're highlighting some of the best practices and critical information we've learned with close to a decade of experience sending electronic health records back and forth as well as our predictions for the future of the program.
A more in-depth analysis of the program, featuring in-depth statistics and original research, is coming in February. But for now, we're excited to present a sneak peek.
The state of the esMD Program
In the past ten years, the esMD program has grown from a fairly rudimentary, one-way portal to a sophisticated piece of technology enabling efficiency in the healthcare audit process.
In 2011, Phase 1 of the program launched, focusing solely on document submissions. Providers who received an additional documentation request (ADR) in the mail were able to submit medical records and required documents to the requesting contractor via an electronic response.
In 2020, after several years of anticipation, the program's Phase 2 finally launched, allowing providers to receive ADR notifications electronically. Recovery Audit Contractors (RAC) auditors could now send out requests for information and providers could respond by uploading the appropriate documentation, creating more of a closed-loop system.
As of 2022, there are 15 HIHs nationwide that handle esMD transactions between CMS and healthcare providers. Hospitals who do not wish to employ an HIH are required to either set up their own CMS-certified connection to the esMD gateway or continue to use a manual process with paper documentation sent through the mail.
It's up to the hospital audit response team to determine the best option should they choose to upload documents electronically. But over the past ten years it's become clear that providers that opt out of electronic submission are at risk of falling behind, especially in terms of time savings and potential lost revenue.
CMS has yet to release full data on the percentage of provider medical records submitted electronically across the industry. However, the organization's Fiscal Year (FY) 2019 report provides interesting information on electronic transactions specific to the RAC program. It is important to keep in mind that these data elements are specific to the RAC, which would technically represent five of the recovery contractors (RC) of the total esMD contractor list.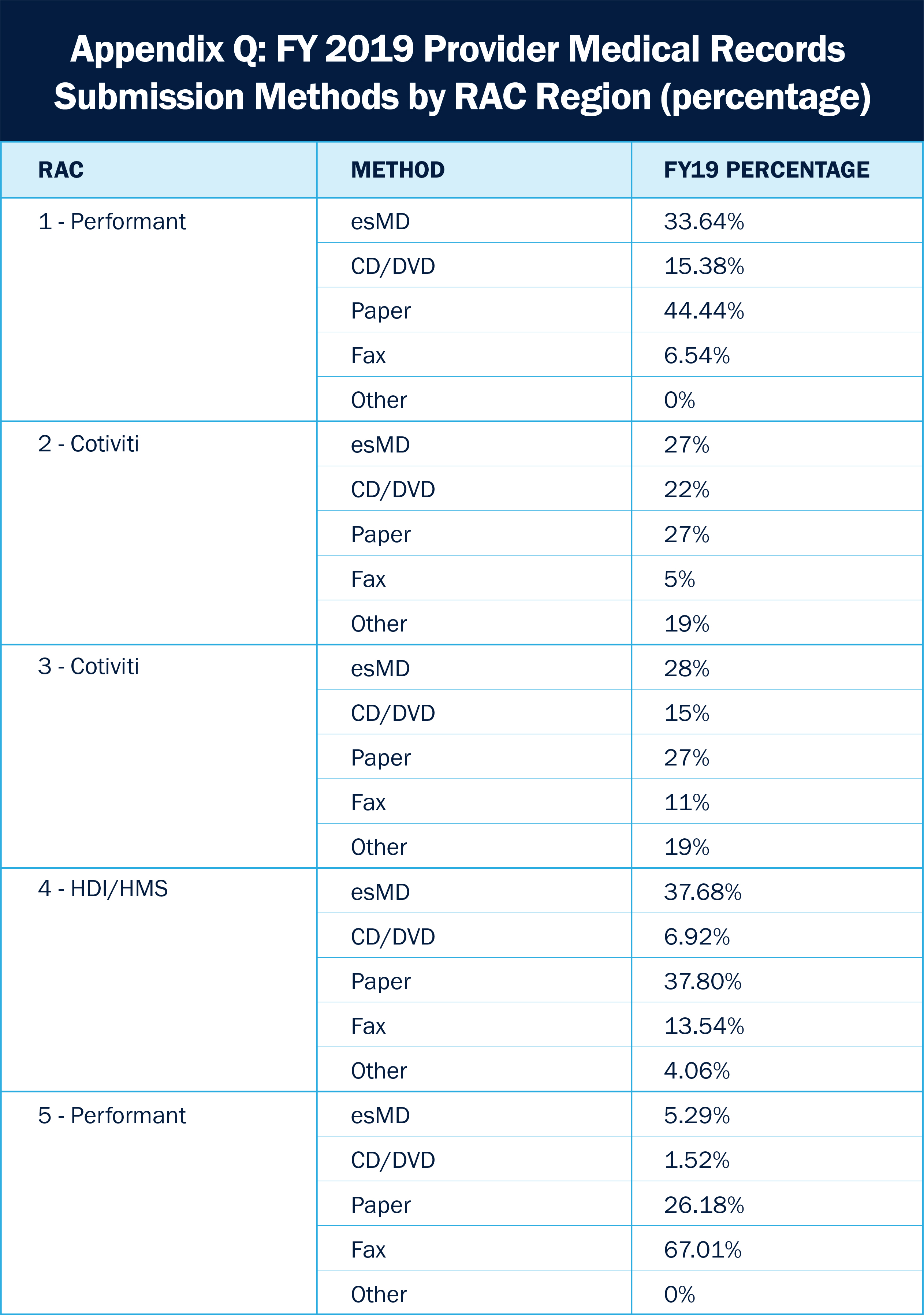 Source: https://www.cms.gov/files/document/fy-2019-medicare-ffs-rac-report-congress-appendices.pdf
Data shows that usage of electronic methods for document submission in this small sample of RCs varied across the board with some consistent trends; Namely, that electronic transactions are used just as often or nearly as often as paper transactions. We can expect these numbers to trend toward electronic transactions in alignment with the industry's growing acceptance of esMD use and CMS' continued encouragement.
More Recent Changes to the esMD Program
Even though Phase 2 of the esMD program launched just under two years ago, there have already been two major changes to the program worth mentioning that many providers are not yet aware of. These changes revolve around structured documentation and updates to key user acceptance testing (UAT) projects.
1. Structured documentation
Structured documentation was a significant release of new functionality made available after Phase 2. Structured documentation features introduced Document Codes into both prepayment and post-payment eMDR transactions. These data elements provide programmable access to letter information and business situations that are specific to the underlying ADR letter.
Prior to Document Codes, the only way to interpret the context of a given eMDR (ADR letter) required a person to read the document. An example of a Document Code would be a request for "interim verbal orders" for a specific date of service.
2. UAT project updates
As a certified HIH, Bluemark is actively involved in several UAT projects that provide key insights into the current status and future of the esMD program. The current UAT phase (April 2022) is underway and contains several updates that are scheduled to be deployed in the coming months.
These items are typical maintenance items and are specific to improvements in Prior Authorization (PA) transactions and general process signaling. There has also been documentation circulated about a potential new use case for esMD that may be of interest to providers. The idea is to use esMD as a general delivery method for letters from Recovery Contractors to providers. This would potentially entail the delivery of Review Result Letters, PA Decision Letters, education and general letters.
Top 5 provider tips for audit response success
While we wait for further updates from CMS, there's plenty to do in the present when it comes to ensuring success with the esMD program. Like many CMS programs, esMD can be complicated and difficult for seasoned users, let alone beginners.
After being deeply involved in esMD for eight years, Bluemark has learned, to speak plainly, a heck of a lot. We've seen best practices, pitfalls and everything in between and set up dozens of esMD gateways for clients.
While we'll be covering our top data-backed observations and advice for success in the full version of this piece, coming February, here is a sneak peek at some of the intel we'll be passing on.
1. The time savings brought about by Phase 2 are unprecedented
We will elaborate further in our long-form version of this data, but here are just a few key facts we've found on esMD time savings:
Providers have reported that payment turnaround when using esMD is six days as opposed to the paper process which is approximately three weeks.
Receiving ADRs manually saves up to five days the hospital can use to start its audit response.
The reduction in data entry with electronic processes likely takes 20% of the time a manual process takes.
2. esMD transforms document preparation
It is much faster to prepare your documents in a HIH tool as opposed to a hybrid or fully manual mode, especially when it comes to tracking. This is illustrated in the chart below.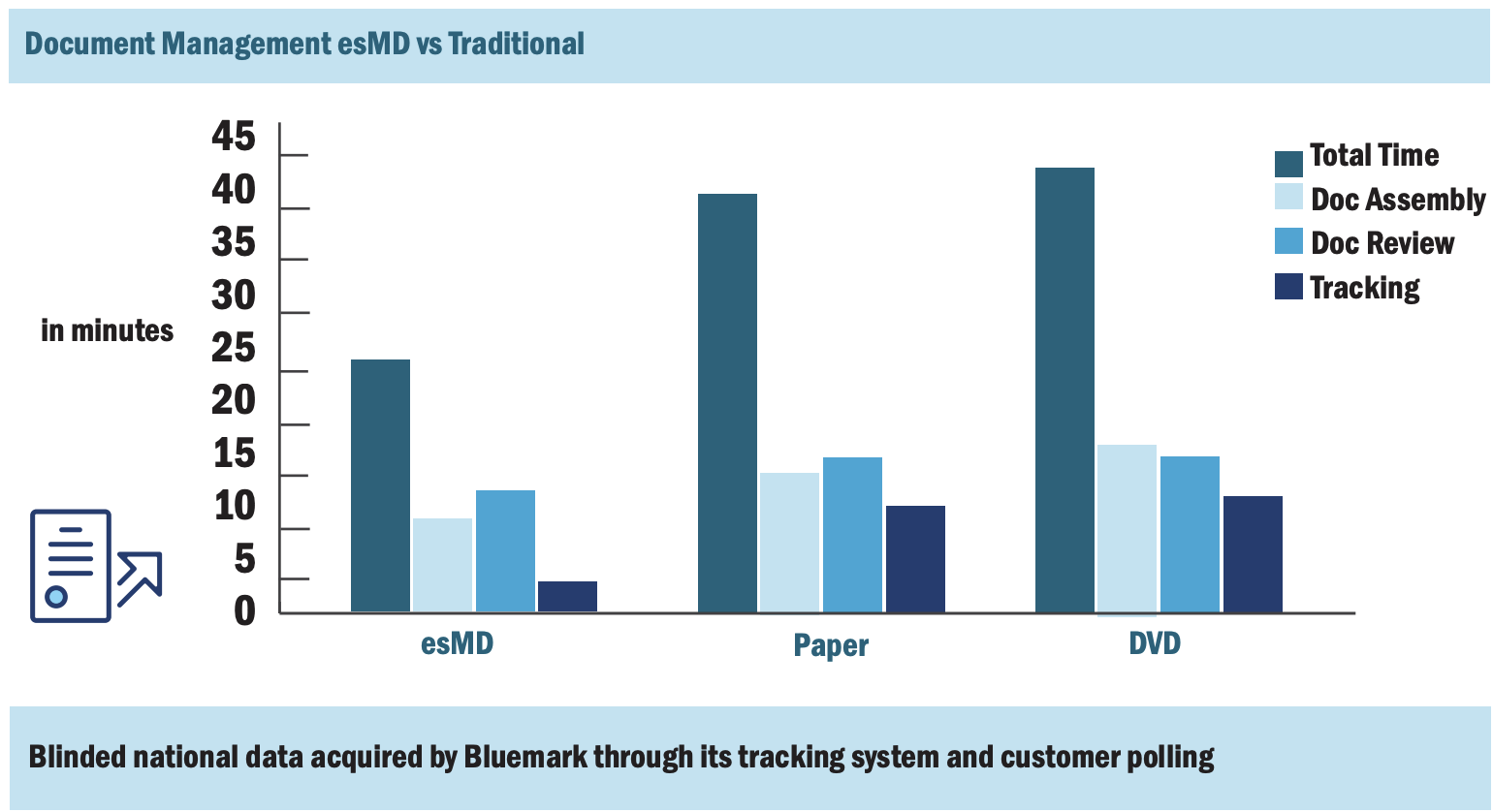 3. There is a formula to setting up your audit response team
We've found that the most successful audit responses start with the foundation a great team provides. The best teams consist of some combination including at least the following necessary roles:
A documentation lead
A project manager
A doctor or nurse
A quality assurance team member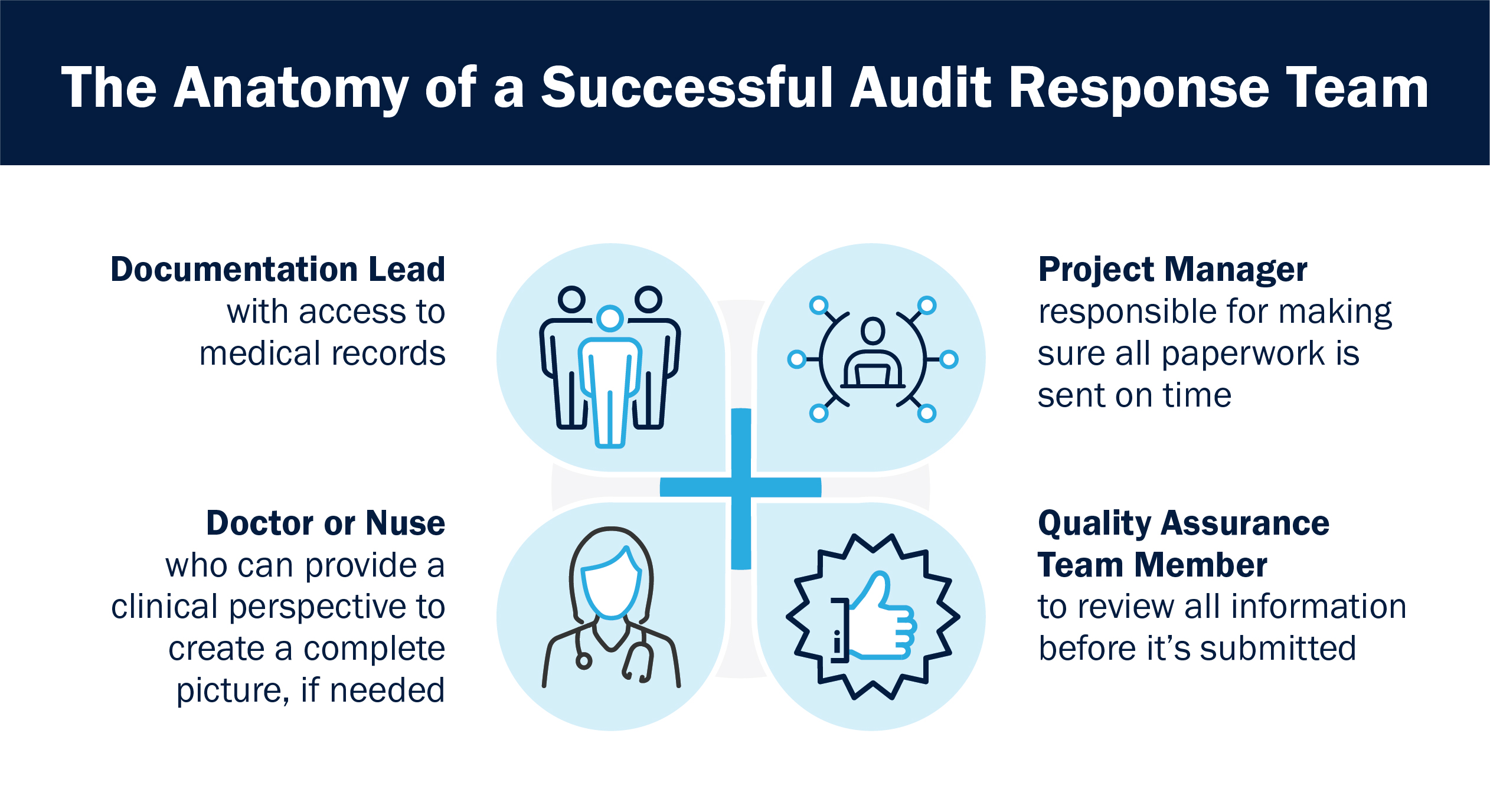 Of course, the team is not limited to four people or four roles. Include as many employees as your organization needs to send a timely, complete audit response.
4. NAYF (Notifications Are Your Friend)
Notifications and alerts are an essential part of the management of an esMD based audit response process. A provider must have controls in place to monitor transactions thus ensuring a smooth process where requests do not fall through the cracks. Some key best practices we have found are:
eMDR transactions can come into your HIH in near real-time. It is critical to have a responsible party or group that receives a notification via email or messaging upon receipt.
In the real world, your teams are busy and requests do not get handled immediately. Workflow management tools should have an escalation mechanic to alert users when items are in danger of missing a timeframe.
Errors can and do happen, so it is important that your product has alerting around these situations. More importantly, one should ensure their software provider has a documented process and clear procedures around these scenarios.
5. Things can (and sometimes will) go wrong. Here's what to do.
Generally speaking, esMD operates with fairly few errors and exceptions. However there are situations where problems do occur.
Problems that can come up in the actual back and forth transactions are what we consider "defined errors." These are very manageable and generally can be addressed by correcting information and resending a transaction.
Issues that do not trigger errors can also occur, which can be frustrating and difficult to track down. This secondary group of errors that we have seen are a bit more complex, they typically occur around timing of letters or receipt of ADRs by the RC.
In our experience these issues are fairly limited and can unfortunately be tied to specific Review Contractors. We have found working the ticketing/support process and working closely with our CMS contacts to be a tremendous help when this occurs.
Celebrating ten years of esMD
We hope you enjoyed this sneak peek of our full, research and data-backed esMD white paper, to be released next month. We'll dive deeper into the data we've collected over eight years with esMD as an HIH and use tools like case studies and online calculators to show the best ways your organization can use esMD to its advantage in 2022.
If you're an esMD newbie whose team is tired of losing time and money with manual processes and want to go digital, we'll show you how to get started. Alternatively, if you're a seasoned professional who's been using esMD for years, we'll show you the easiest ways to take your audit response process to the next level and implement key best practices based on our original research.
Be the first to receive the full esMD white paper from Bluemark. Click here to leave your email and we'll send it directly to you hot off the presses this February.