This month, Bluemark is celebrating 20 years of innovation within the healthcare revenue cycle management space. After two decades in business, our team has seen its fair share of innovation and changes in the healthcare space. Above all, they have had a hand in shaping some of the most advanced healthcare revenue management software options on the market.
One thing we pride ourselves on at Bluemark is the tenure of our team members. In fact, many of our team members have been with Bluemark for over a decade, some since the very beginning. In honor of our anniversary, we asked a few of our veterans to talk about what it was like to work on some of our most pivotal product offerings, both in recent years and at the very start of the company. Ready to take a trip down memory lane with us?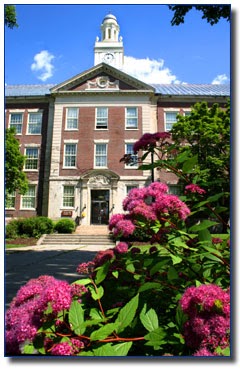 2001: EASy Reinvents Medicaid Application Submission and Processing
Bluemark's first product line, EASy, came about as a result of a consulting project with New York City. The city needed to create a way to submit and process Medicaid applications electronically, beginning in the nursing home space. Bluemark worked with NYC on the project, creating a full cycle technology for the submission, processing and adjudication of long term care Medicaid cases. The project led to the creation of NYC HRA EDITS allowing NYC to accept applications across a variety of provider types. This in turn allowed Bluemark to expand to all provider types in New York City with our MAPS solution. Even after 20 years, Bluemark remains ahead of its time as both EASy and MAPS offer electronic application submissions to many New York City healthcare providers.
Photo: Bluemark's first home: Van Den Berg Hall of SUNY New Paltz

Hear it from Bryan Exner, Chief Operating Officer since June 2001
"It was exciting to work on this project as the EDITS concept was pretty advanced for the time. And the outcome was a huge success. We still use the EDITS interface to this day and the access it provides has allowed us to move into other provider types.
"The pinnacle of our experience with EDITS was winning the contract with Healthfirst to manage all their Medicaid facilitated enrollments. This was huge for the company, as we were routinely enrolling 6000-7000 members on a monthly basis. We also learned a lot from this customer as they were the largest managed medicaid plan in NYC and had significant operations. At peak we would routinely have 250+ concurrent users.
"In the years to come we expect to stay on the same path and continue to innovate and leverage the online pathways and interfaces that the state governments provide to accept applications. We are also excited to bring our technology directly to the patient to empower them and help get them connected rapidly to benefits."

Photo: Bluemark's first logo
2006: Blueway Tracker Provides a New Way to Respond to Audits
Bluemark's second official product line, Blueway Tracker, spawned from a project with the Greater New York Hospital Association (GNYHA). GNYHA was seeking a tool to help their partners respond to RAC audits, which had just been introduced.

Hear it from Evan Sacks, Product Specialist since 2010
"I was hired specifically to assist with the heavy lifting that Blueway Tracker was requiring on a daily basis from the administrative side. Because it was originally designed to track and manage a completely new Medicare audit type, it was exciting to work on a project with software that had to constantly and rapidly adapt to realtime policy changes.
"Tracker was widely adopted, and became integral to the success of many organizations. The sheer volume of record requests and the painstaking tracking of all the various deadlines really required organizations to stop and take a look at their internal processes, many of which concluded that they needed a dedicated system to help them manage their day-to-day, really helping us to grow the product and ultimately end up with clients in almost all 50 states.
"This product absolutely still has an impact in the revenue cycle space today. With a much finer focus on healthcare spending in general, we've seen the system grow to meet the evolving demands of our clients. Our first step, years ago, was to expand the system to be able to track all payer audit activity a provider could receive, giving them the tools to manage and create their own workflows, and has been expanding in functionality ever since."
2010: MAPS Comes Together in Response to the ACA
Prior to 2010, Bluemark had been developing variations on a platform for better self-pay patient management. Then in 2010, the passing of the Affordable Care Act (ACA) brought the entire project together to form our next generation of the MAPS solution, our flagship product. MAPS brings together the eligibility and enrollment process for Medicaid, financial assistance and qualified health plan eligibility all on a single platform which is fully integrated with hospital information systems.
Hear it from Ken Sacks, Bluemark Partner/Owner since 2001
"The Affordable Care Act was a game changer for the healthcare industry; in essence creating another pathway for the uninsured or underinsured to gain access to health care services. Bluemark has always been nimble, and we were able to quickly respond to assist providers meet this operational challenge and our MAPS Exchange solution was born.
"The project led to the expansion of the capabilities of our core product MAPS to address the assessment and enrollment of qualified individuals into the appropriate State Exchange program. MAPS continues to have an impact in the revenue cycle space today. The COVID-19 experience in 2020 is proof of that, in the sense that health care staff in patient financial services have an increased burden to assist individuals to find appropriate coverage for their self-pay population.
"In addition, maximizing hospital reimbursement continues to be one of the greatest challenges for providers. Having the ability to increase staff productivity and enhance the reimbursement process via our technology will improve hospital operations and revenue streams. Our goal is to ensure that our technology platform remains highly flexible and that our team reacts quickly and adapts to the constant changes in the healthcare delivery system."

Photo: Bluemark's second logo iteration
2014: Bluemark's Certification in Electronic Health Information Handling
In 2014, Bluemark became a pioneer in electronic health information handling, becoming one of the first handful of companies to be certified by the Centers for Medicaid and Medicare Services (CMS) to securely transmit documents back and forth on behalf of providers and patients. The process took 18 months. To this day, Bluemark is one of only 19 companies certified to handle sensitive health information.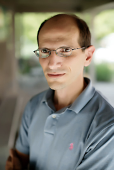 Hear it from Daniel Pinnavaia, Director of Software Development since 2002
"The year 2014 was a busy time for Bluemark. We had a lot of new development initiatives and maintenance projects. We got Health Information Handler (HIH) certified to support the workflow and better meet the needs of our Blueway Tracker clients. The process of implementing our HIH gateway interact was both challenging and rewarding for the entire team.
"The healthcare information space continues to move from paper to an electronic world and in turn, we continue to implement new functionality and lines of business as opportunities arise. We work closely with CMS and review contractors in the maintenance and enhancement of the esMD project to support existing and upcoming functionality, and will for years to come."
2019: MAPS-Clear Makes Patient-Provider Communication Easy
As we moved into the end of one decade and the beginning of another, the Bluemark team launched the MAPS-Clear Patient Outreach, which extended the capabilities of the MAPS platform by adding patient-centric engagement technology. It provides patients with access to a self-service portal to securely screen, supply application information, provide required documentation and direct message with hospital financial counselors via email, text and social media.

Hear it from Sarah Brainard, Director of Client Relations since 2002
"MAPS-Clear began as an idea to create an experience targeted to a set of users who would want to participate in their assistance enrollment without having to pick up a phone or more importantly, to come in for yet another appointment. Phase one of the project resulted in a simple and user-friendly tool for the front-end application/consumer as well as for the back-end user. The portal had the capability in that initial instance to provide a pathway for the enrollee and other referral points to deliver data and set up appointments with the back-end team.
"Today, MAPS-Clear continues to provide consumers who do not have time for an appointment in person or the fear of a phone call a way to communicate and show interest in the offerings of the department. Our Phase two (2020) of the portal also provided time and cost savings with mail, a better customer service process for the provider (immediate signature push with the back-end interview, to application, sign and upload) and much more.
"The return on investment for MAPS comes in the form of the time-savings, but the value-add that comes with tracking and reporting ability cannot be discredited. MAPS' user friendly interface also helps hospitals take the first step into technology solutions that helps them adapt to a shifting marketplace."
Cheers to 20 More Years of Innovation
At Bluemark, our team lives for that moment when the product in which we've poured our time, energy and passion finally hits the market and makes life easier for our colleagues in the revenue cycle space. Keeping track of extensive medical finances isn't easy, but it's a critical component of a happy, healthy community.
It's easy to measure our impact by calendar dates and hard numbers, but the true impact of the past 20 years has been with the people we serve. Because of our innovation, thousands of patients have received financial assistance. As a result of our drive to innovate, families have received Medicaid coverage. Bluemark's sophisticated technology has even helped working professionals by easing the organizational burden of their jobs, freeing up time to focus on patient satisfaction and care.
A healthy community is a happy one. Our team is committed to continuing the legacy we've built over these past 20 years by providing much-needed software solutions to benefit those who need it most.
Interested in following along on the next decade of our journey? Follow us on LinkedIn for the most up-to-date information on new products and company happenings.