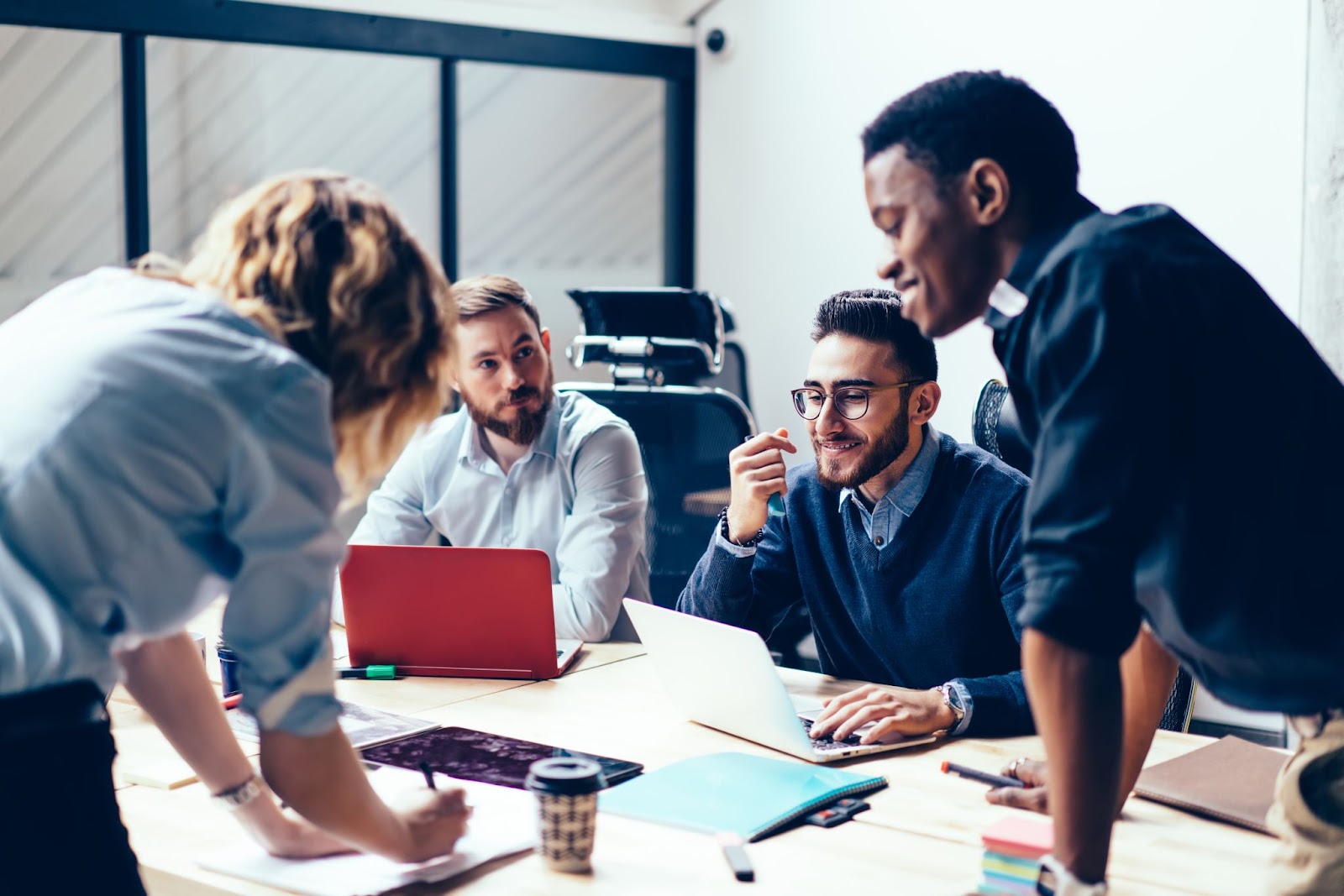 When it comes to audit management and response, Individual hospitals face their fair share of internal obstacles and workplace issues. But in large health systems, run-of-the-mill problems are multiplied by ten. There are simply more people, more departments, more audits and more revenue dollars at risk.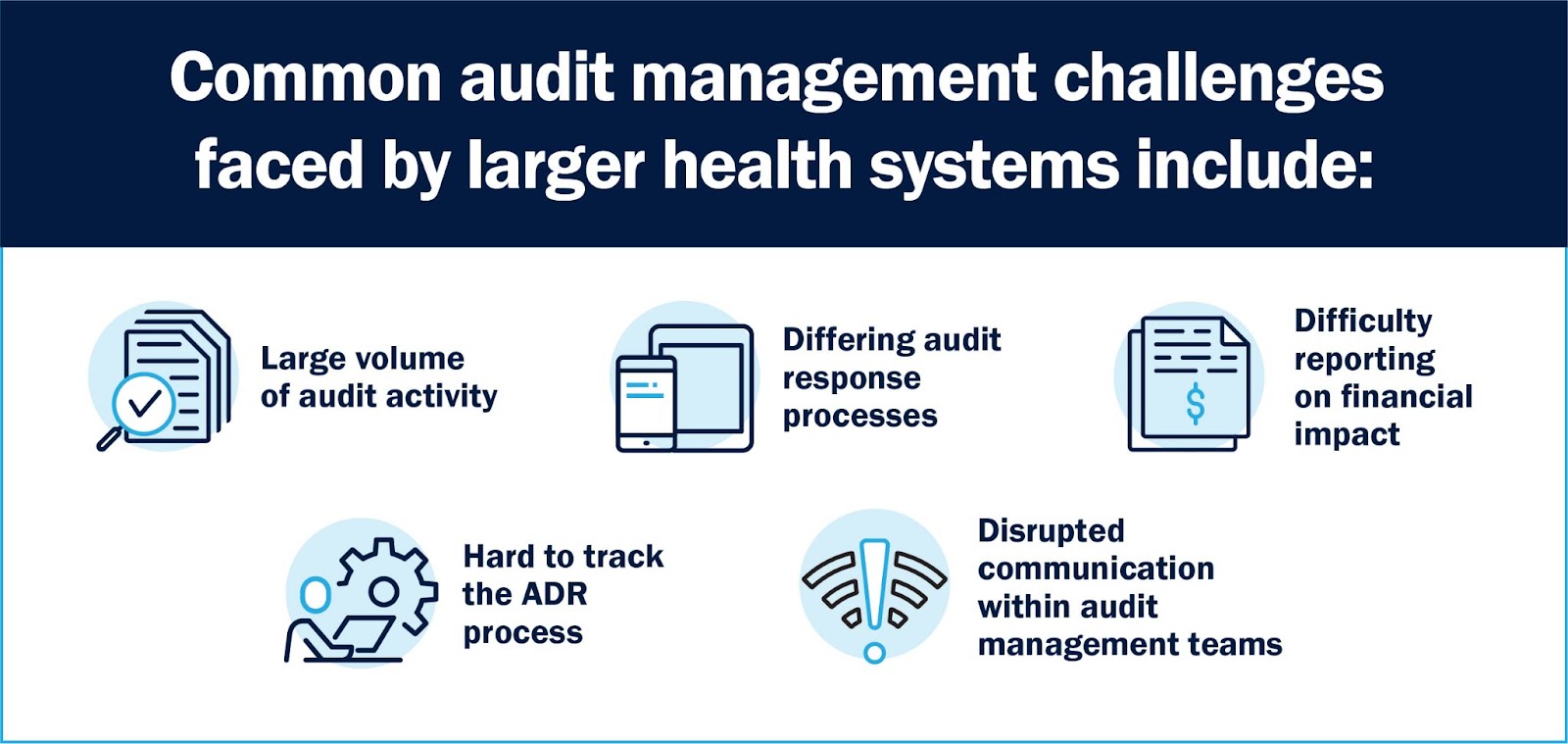 – Large volume of audit activity
The full universe of potential audits includes Medicare, Medicaid and commercial insurance provider audits. Complex health systems face higher than average audit activity because they experience higher volumes of patients. High numbers can quickly feel unmanageable for an unequipped audit response team.
– Differing audit response processes
Working with experts allows you to get needed processes up and running fairly quickly
Eliminates some of management overhead of the staff
If offsite, it doesn't require extra space or job training to implement
A large health system not only deals with high audit volume – they must manage multiple processes depending on the type of audit.
– Difficulty reporting on financial impact
Larger health systems are more spread out with many team members working in the response process, making it difficult to track real time measurement of an audit's financial impact. It helps to understand how many dollars are currently under audit, where those dollars sit in the audit process and the potential financial impact of any take backs from the audit.
It's hard to report on the success of just a few audits happening at the same time. Health systems must contend with hundreds of audits all requiring a response at once.
– Hard to track the ADR process
Speaking of real time tracking, multi-hospital facilities often have trouble tracking where document requests end up. Typically they are not sent to a centralized audit management department, and are instead sent to individual satellite hospitals.
Audit response teams must find and collect each individual ADR as quickly as possible. The time it takes to track down individual document requests is time the team can no longer spend on the actual response.
– Disrupted communication within audit management teams
With the current labor shortage, many larger health systems are facing challenges from a resources perspective. And even those that are fortunate to employ enough people to respond to the volume of audits are contending with the challenges of a dispersed workplace.
Some people work remotely, others at separate hospitals, leading to a scattered team of staff that all must function together cohesively within your response process. Communication is key and must be streamlined for efficiency.
How can health systems respond to audit management challenges?
When faced with this laundry list of challenges, large providers should focus on a system-wide approach to managing this process. An audit and denials management system must involve all departments within the provider to ensure that audit items and the ability to appeal denials are not lost.
Providers with several hospitals in a system need to coordinate activity on a corporate level so that all the system's hospitals are addressing audit and denials management in the same way.
A backbone technology solution plays a key role in the audit and denials management process and provides a strong foundation for evolution and improvement. The most effective
solutions provide the following expected results: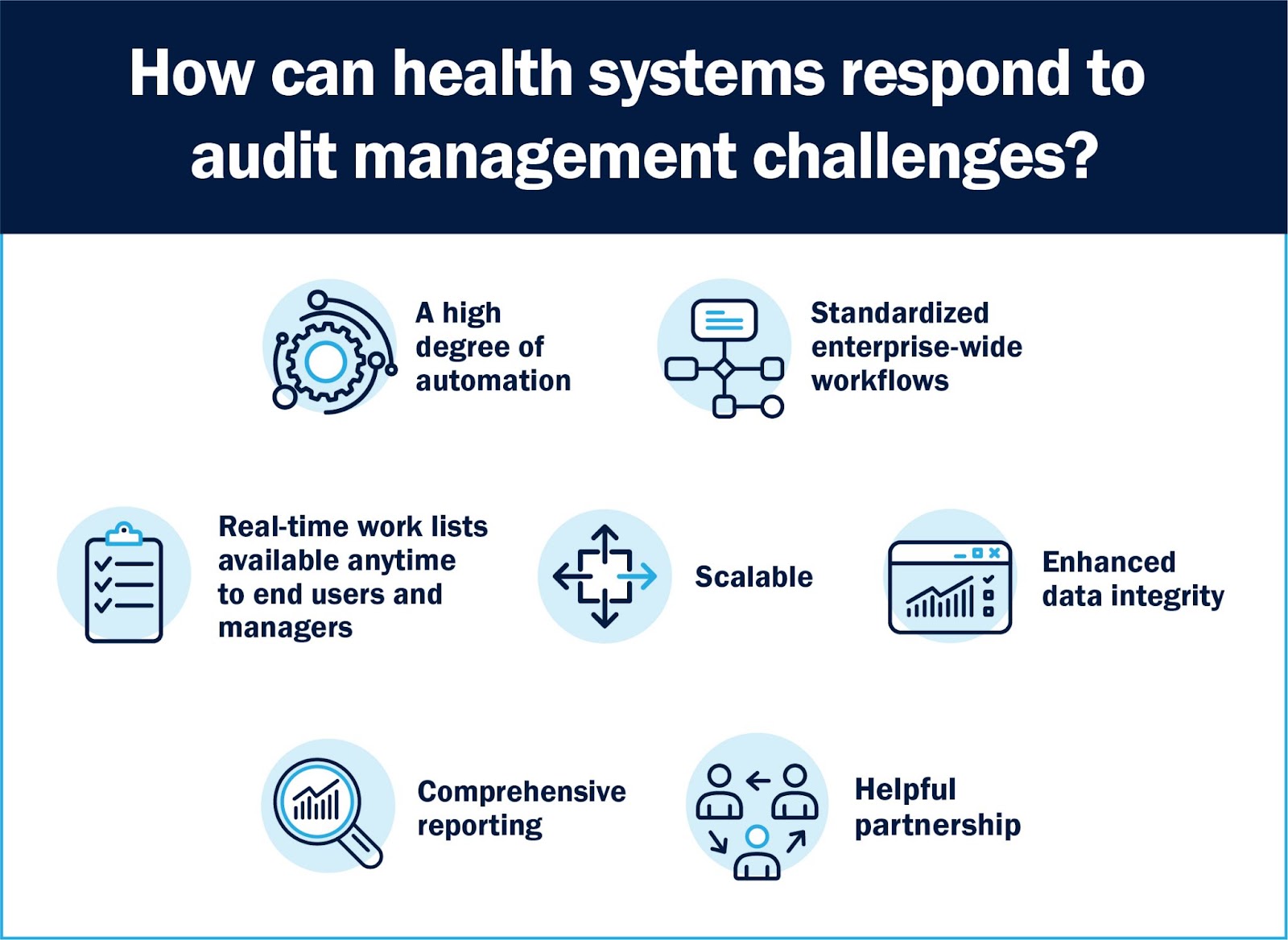 – A high degree of automation
With manual processes and disparate tools, providers often have to rely on valuable clinical resources to complete data entry tasks instead of working on the specifics of the appeal or denial. Non-integrated systems can also require significant "monitoring" of billing systems and information, because data feeds of claims and remittances are not automated.
– Standardized enterprise-wide workflows
In multi-facility health systems, all facilities will have standardized workflows across the enterprise. A strong backbone audit system with technical capability and understanding of the audit and denials process is necessary for this to happen.
– Real-time work lists available anytime to end users and managers
This will help to meet deadlines, allow audit case managers to prioritize the team's work, and enable the reassignment of tasks as needed. Providers should also expect to reduce time spent creating and reviewing work lists.
– Scalable
Any solutions should be scalable to support organizational expansion and onboarding new facilities. Ensuring an easy and painless transition for the end-users is also essential for success.
– Enhanced data integrity
Maybe the most important aspect of a backbone audit management solution is having greater confidence in data reported to the organization's finance department and other key leadership stakeholders. Providers will experience a reduction in time spent running reports and validating data with financial reporting teams, as well as reduced resources required to execute reporting requirements.
– Comprehensive reporting
A smart team puts reporting first when changing process or improving department function, basing decisions off of deep data review and analysis. Investing in a solution that provides you with access to real-time data benefits operations and analytics while establishing a numbers-driven system for process improvement.
– Helpful partnership
Beyond the technical requirements of a new solution, providers should look for a solutions expert with deep industry knowledge and a thorough understanding of the complexity of audits and denials.
Case study: Technology solutions into action
The following is a summary of a case study involving a large, multi-facility health system. The full case study can be found here.
In its prior state, the health system was handling audit response, facing challenges that amounted to:
Over 6,000 record requests
Millions in post-pay and pre-pay reimbursement at risk
40% denial rate
Their response process was over 90% manual, leading to a plethora of human errors and inconsistencies. There was no integration within their systems, and they struggled to sync claim and remittance data.
All the while, the health system was expanding, adding more facilities across the Midwest. When it became apparent the team did not have the resources in place to support such rapid growth, the decision was made to implement Blueway Tracker as an audit management system.
Every facility under the system's umbrella implemented Blueway Tracker with standardized workflows and real-time work lists.
Following setup and onboarding, the multi-facility hospital saw the following results:
Achieved 93% data field automation.
Reduction in time spent creating and reviewing work lists from 16 hours per month to < 1 hour per month.
Greater confidence in data reported to the organization's finance department and other audiences.
Reduction in time spent running reports and validating data with financial reporting team—marked by a drop from 4 hours a week to nearly zero
Written plans, excellent technical interface documents, status calls and strong communication around issues were among the core tools that established a strong foundation for the project's success.
Large health systems and multi-facility hospitals face similar challenges to individual hospitals, but on a massive scale that can easily become overwhelming, especially for teams stunted by the labor shortage.
Fortunately, the majority of issues in the audit management and response process can be mitigated by the right technology solution. Connecting facilities in real time, automating data entry and analyzing key metrics are critical for bottom line success and improved employee morale.
The Bluemark team is filled with experts who have decades of experience working with large health systems in process improvement and technology implementation for audit management response.
Let's have a conversation about how we can help connect your facilities and improve your audit response process.