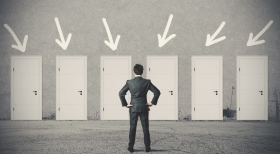 The rate of uninsured Americans is on the rise, according to a recently released survey from Gallup and Sharecare. In the second quarter of 2017, the uninsured rate measured 11.7%, up slightly from 11.3% in Q1 and 10.9% in the second half of last year. This steady upward trend, many predict, may just be getting started, depending on the outcome of efforts to repeal and replace the Affordable Care Act (ACA).
Several key factors are driving this upward shift:
Uncertainty regarding the future of the ACA. With the GOP heavily focused on overhauling health care, many consumers are skeptical the individual mandate and its monetary penalty will be enforced or even remain in place much longer. This was further reinforced by the President's executive order that allows agencies to waive or delay aspects of the ACA considered to create a financial burden on individuals. This uncertainty has been enough for many consumers—particularly young, healthy individuals—to forgo coverage.
Insurers exiting the health insurance marketplace. Many insurers, such as UnitedHealth and Aetna, are choosing to exit the ACA and individual marketplace in some states, leaving consumers with fewer options for coverage. In 2017, the average number of insurance companies per state was 4.3, down from 5.6 in 2016, according to data from the Kaiser Foundation. Also in 2017, 21% of enrollees had just one option for an insurer—up from just 2% of enrollees in 2016. Faced with limited choices and plan options that do not meet their needs, some consumers are walking away from coverage all together.
Spike in premiums for individuals not eligible for subsidies. Marketplace premiums increased an average of 25% for 2017 coverage. For consumers who are not eligible for premium tax credits, these dramatic increases hit them hard, with many choosing to opt out of coverage rather than increase their out-of-pocket spending. It's projected that premium costs will continue to increase and, in turn, be a deterrent for consumers. Both under the ACA and the recently proposed Senate replacement Bill, the Better Care Reconciliation Act (BCRA), premiums will increase. According to estimates from the Kaiser Foundation, premiums would be 74% higher under the BCRA than under the ACA. Also, typically areas with fewer insurers experience higher premiums—so with more insurers exiting the marketplaces, this could continue to drive an increase in premiums.
The potential implications of higher uninsured rates are broad, impacting access to care, quality of care, and overall health of those with insurance. Providers in areas with high uninsured rates may cut back services or leave the area all together.
While the future of health care reform remains uncertain, it looks like a bill to replace the ACA may be off the table for now. Despite the future of the ACA, it's likely we'll see this upward trend continue well into the foreseeable future.