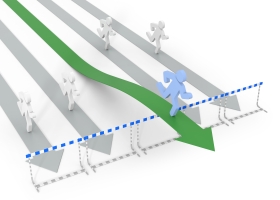 Some consumers will soon have one more step to complete before successfully enrolling in health coverage through the federal marketplace—a move some are concerned will deter healthy consumers from the marketplace and lead to gaps in coverage.
The Centers for Medicare & Medicaid (CMS) will soon require consumers to provide eligibility verification for special enrollment periods as a contingency for obtaining health coverage outside of open enrollment. Documentation must be received, reviewed and verified before health coverage begins—a shift from current practices that could delay coverage start dates for those impacted.
As you likely know, special enrollment periods allow consumers to sign up for coverage year-round—outside of annual open enrollment—due to life changing events such as marriage, divorce, birth of a child or job lositis. Last year, CMS began requiring documentation to verify eligibility for the five most common special enrollment periods (SEPs), but currently consumers are granted health coverage while these documents are reviewed.
This will no longer be the case in June for half of consumers using these special enrollment periods. The pilot will impact 50% of applicants—randomly selected—and affect all states using the federal marketplace, healthcare.gov.
When signing up, consumers will still be able to select a plan and go through the enrollment process; however, they will not be able to pay premiums until after documentation has been submitted and verified. Consumers will have 30 days to comply by sending in these pre-enrollment verification documents.
Many are concerned this change may discourage people from completing enrollment—specifically, that it may discourage young, healthy consumers from the marketplace. The extra step may be perceived as cumbersome and an inconvenience not worth obtaining coverage; some may think it easier to simply pay the individual mandate penalty.
The impact of the special enrollment verification process in place today supports that theory. In fact, CMS data show a 20% drop in enrollment through special enrollment periods in 2016 as compared to 2015. It also showed that younger consumers (ages 18-24) were more likely than older consumers (ages 55-64) to abandon the enrollment process when asked for verification documentation. This could lead to negative impacts on the risk pool and subsequently costs, something the CMS has committed to monitoring.
Health plans have long argued that special enrollment periods are abused by consumers who wait until they need coverage to sign up, citing as proof higher than average claims in the initial months following enrollment. While it's unclear if this is actually the case, CMS continues to put these types of verification measures in place to curb abuse.
It remains to be seen if the true impact will prevent abuse or discourage healthy consumers from obtaining coverage. Either way, it could lead to more consumers foregoing coverage or an uptick in those who experience gaps in coverage—both of which can be problematic if and when unanticipated treatment needs arise.